Invisalign Treatment in Augusta & Evans, GA
If you're struggling with misaligned or crooked teeth, but aren't sure if braces are the right choice for you, there is a more discreet option. If you want to straighten your teeth and give yourself the smile you deserve, Invisalign may be the right choice for you!
What is Invisalign?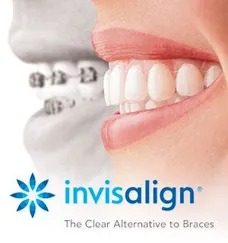 Invisalign is a set of clear aligners that will help straighten your smile by slowly moving your teeth into the correct position. Your dentist here at Summerville Dentistry will take a mold of your smile and custom aligners will be made for you. Invisalign is nearly invisible and no one will ever know you're discreetly straightening your teeth unless you tell them. You will see your dentist a few times during treatment to make sure that your teeth are progressing as planned and so your dentist can make any adjustments that are needed during your Invisalign process.
How Does Invisalign Work?
With Invisalign, your dentist will fit you for a custom set of aligners shaped specifically for your mouth. Every few weeks, you will change your aligners to a new set to continue the process of straightening your teeth. During this time, you will also have to visit our Augusta or Evans office every six weeks just to be sure that your smile is progressing accordingly. Your dentist will check to make sure your teeth are where they should be and check that you aren't experiencing any difficulties.
Invisalign is a fairly quick treatment and you should be finished with treatment anywhere from 9 to 15 months. With Invisalign, you're able to eat whatever you want, as long as you take the aligners off before and you're sure to brush and floss after. Invisalign is such an easy treatment process that you'll be straightening your teeth in your sleep! It's important to wear your aligners as much as possible, and that includes while you're sleeping. You should only be taking your aligners off to eat, drink, brush, and floss.
Contact Your Dentist About Invisalign Today
If you're struggling with a crooked or misaligned smile, it's important to contact your dentist as soon as possible to set up an appointment and determine if Invisalign is the right treatment for you!
Interested in straightening your teeth? For more information on Invisalign, contact Summerville Dentistry
by calling our Augusta, GA office at (706) 738-4723 or our Evans, GA office at (706) 250-2998!